Today is the day!  SpongeBob SquarePants: Bikini Bottom Bash is now on DVD! To help you celebrate we have a delicious recipe for SpongeBob Pineapple Cupcakes!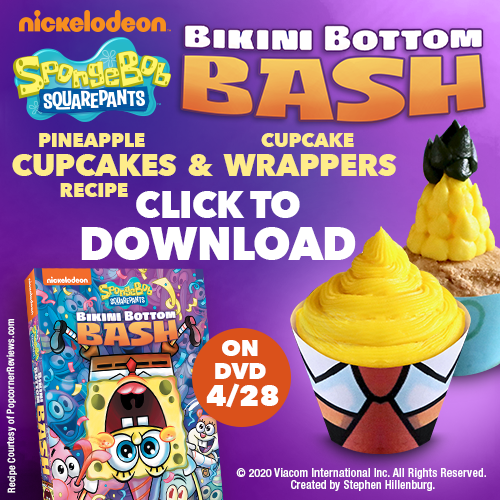 ---
This rockin' compilation boasts five uproarious party-themed episodes, including SpongeBob's Big Birthday Blowout, which ranked as the #1 show for the year across kid networks among K2-11, K6-11, K9-14 and K12-17.  It's SpongeBob's birthday, but it's a surprise, so SpongeBob and Patrick are going on a tour of the surface world while everyone else plans the birthday blowout below. Then, Bikini Bottom throws a wave of other parties: Catch some rays with SpongeBob and Patrick to get into the biggest bash in town, enjoy a girls' night in at Pearl's sleepover, raise the pineapple's roof at SpongeBob's house party, and celebrate the Krusty Krab's momentous eleventy-seventh anniversary!
Let's par-tay!
My Review
What can you say, it's Spongebob and who doesn't love Spongebob?! I do love the compilation of party episodes:
Episodes:
SpongeBob's Big Birthday Blowout – In this episode, SpongeBob and Patrick tour the surface world, while the rest of Bikini Bottom prepares a surprise party for SpongeBob.
SpongeBob's House Party – SpongeBob, while grocery shopping, discovers a "how to throw a party" kit. He decides to throw a big party and invites everyone he's ever known. Unfortunately for his guests, SpongeBob plans everything right down to the minute, sapping all the fun from his party. When he gets accidentally locked outside, the real party begins, but SpongeBob freaks out thinking that his planning isn't being followed.
Sun Bleached – Everybody who's anybody is going to a big party in Bikini Bottom, but you have to be a certain shade of tan to get in. SpongeBob and Patrick decide to get tan so they can go to the party, but SpongeBob accidentally goes too far and turns sun-bleached white!
The Slumber Party – Pearl's getting ready for her slumber party, but Mr. Krabs' meddling in the party preparations is getting out of control. Pearl forces him out of the house and orders him to stay at SpongeBob's house until the party's over. But that doesn't stop Mr. Krabs from finding out what's going on at the party-he sends his #1 employee SpongeBob to be his undercover spy!
Truth or Square –  In this episode, during a Krusty Krab anniversary celebration, SpongeBob, Patrick, Squidward, and Mr. Krabs accidentally get locked in the freezer.
Since this a compilation, you most likely have seen all these episodes separately so you know some are a mix of live-action and animation. Those are always fun to watch. I loved having all of these episodes on one DVD, especially if you have a little one with a birthday coming up, this would be great play during the celebration. Who wouldn't want to celebrate with Spongebob?
I currently have a giveaway running where you can enter to win a copy of the DVD
or you can head to Amazon and purchase it.