This post is sponsored by Savings.com, all opinions are 100% my own. 
A few weeks ago I had a friend that emailed and said that she was going to stop by the next day with her family. I panicked because I had nothing to serve her while she was here and it was too late to run to the store. What was I going to do? Surely tortillas and peanut butter weren't going to cut it because that is honestly all I had left in the cabinet.
Then I thought about running to a convenience store to see what I could find but figured icees and chips weren't going to cut it either. So what to do, what to do? I know, I could order from Peapod, a grocery delivery service where you can shop at home from your computer or your phone 24/7! Perfect!
So how does it work?
First, you log on to Peapod.com and start shopping for the items you want. Then a qualified Peapod shopper will pick out all of the items for you, hand selecting your produce and meat, so you'll be sure to get the best quality available. It's like having your own personal shopper, one who is also looking out for you.
Peapod lets you use manufacturer coupons and will even double up to 99¢ per coupon unless otherwise specified on the coupon. They also have exclusive online coupons, just look for them and they will be applied as you add the items to your cart.
Once you are finished shopping, you pick the delivery date and time for when you want the delivery.  The driver will bring the groceries right to your front door so you don't even have to run out of the house. If for any reason you can't be home when the delivery arrives, you can set up an "Unattended Order" when you place the order and they will leave your dry goods in paper bags, and your refrigerated items in a foil bag with reusable gel packs to maintain their temperature. Frozen items will be packed in a foil bag with reusable gel packs and dry ice, as needed.  This way you can prepare for your guests, your party or whatever it is you need the groceries for without all the hassle and stress. I am already a member so I will be using it for my upcoming Memorial Day party because I just love how much time it saves.
Peapod grocery delivery is only available in the following areas:
Chicagoland
Connecticut
Indianapolis
Maryland
Massachusetts
Milwaukee
Southern New Hampshire
New Jersey
New York
Central Pennsylvania
S.E. Pennsylvania
Philadelphia
Rhode Island
Virginia
Washington D.C.
S.E. Wisconsin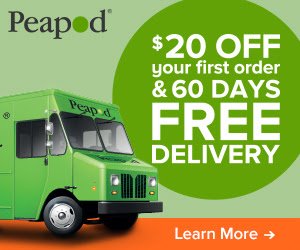 Are you thinking about using Peapod Delivery Service? If you are, be sure to get $20 off your first order by using promo code: STARS20 at checkout and get Free delivery for 60 days. Hurry, the offer expires 6/30/18.