This post may contain affiliate links or I may have received the product free or something else of value for writing this post in exchange for my honest review. See full disclosure for details.
---
Is there a love JoJo Siwa in your home? Now is your chance to download these fun Valentines!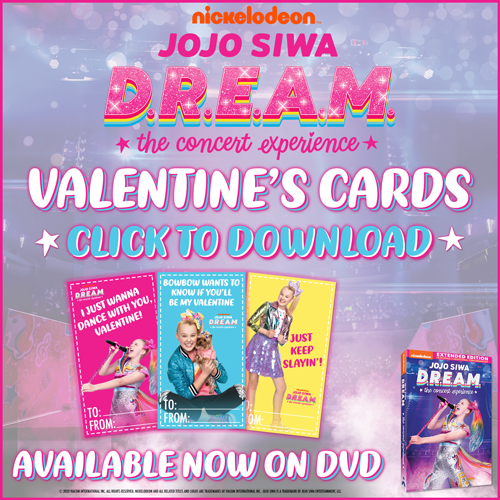 JoJo's bringing the D.R.E.A.M. tour to her hometown of Omaha, Nebraska, and she's giving you a front-row seat in this exclusive extended edition of her concert special! Including never-before-seen footage only available on this new DVD, 
JoJo Siwa: D.R.E.A.M. The Concert Experience
 arrives February 11, 2020 and features JoJo taking her tour to Dreamland. Packed with behind-the-scenes footage, a ride on JoJo's tour bus, and more, the 
JoJo Siwa: D.R.E.A.M. The Concert Experience
 DVD will be available from Paramount Home Entertainment and Nickelodeon Home Entertainment for $13.99.
JoJo Siwa: D.R.E.A.M. The Concert Experience episodes:
JoJo's D.R.E.A.M. Concert
JoJo's Follow Your D.R.E.A.M.
JoJo's Livin' the D.R.E.A.M.
Meet JoJo's Tour Dancers
Tour JoJo Siwa's Dressing Room
JoJo Siwa's Challenge Showdown, Sound Check & More!
JoJo Siwa Shows Us Her Tour Bus
JoJo Siwa Plays 7 Second Challenge & More!
EPIC Finish That JoJo Lyric Challenge! 
JoJo Siwa's Tour Taste Test w/ Cricket Bites & More!