Marvel Studios' "
Black Panther
," the highly celebrated story of T'Challa (Chadwick Boseman), a young African prince who takes on the mantle of King and Super Hero, has thrilled and inspired generations of moviegoers around the globe. Now available on 4K Ultra HD™, Blu-ray™, DVD and On-Demand. Bring it home today and add it to your collection.
Black Panther, like all MCU movies, was filmed well, had great acting, the writing was impeccable and was overall a beautiful movie. The story, however, was a little bland for my taste since it was basically a generic revenge story gone wrong from a villain who was somewhat one dimensional. That being said, I did enjoy the story and it was visually stunning.
Black Panther Blu Ray Special Features includes a variety of features that were not only fun like the blooper reels, how some of the movie was filmed, the costumes and all the standard fare, it also gives you a comic book history lesson. Which, when it comes to The Black Panther, is important.
The Black Panther first appeared in Marvel Comics back in 1966 in Fantastic Four #52 and got his first starring role in Jungle Action #5 (1973) and Black Panther #1 was released in 1977. This character has been around for over 50 years. This is something I found that most people did not know. A lot of moviegoers without comic book history knowledge went into the movie thinking that Black Panther was a brand new character so I enjoyed seeing the history included, especially the roundtable discussion with one of the original creators.
The special features also delves into the history of Wakanda with The Hidden Kingdon Revealed and the mythos of the Black Panther. Wakanda is a very different place from the rest of the world and its place in the MCU is very important as it is the source of the strongest metal in the world, vibranium.
All in all, a very solid and, more importantly, informative set of special features that even the newest Marvel fan will appreciate. Check out all of the bonus features.
BONUS FEATURES
Director's Intro
From Page to Screen: A Roundtable Discussion – Delve into the film's making
Crowning of a New King – Explore the world of "Black Panther" in all its color and complexity
The Warriors Within – Get to know Wakanda's women and the actors who portray them
The Hidden Kingdom Revealed – Wakanda's diverse people
Wakanda Revealed: Exploring the Technology
Deleted Scenes
U.N. Meet and Greet
Okoye And W'Kabi Discuss the Future of Wakanda
T'Challa Remembers His Father
Voices from the Past
Gag Reel
Exclusive Sneak Peek at "Ant-Man and The Wasp"
Marvel Studios the First Ten Years: Connecting the Universe
Digital Exclusives:
o   In World Wakanda Tourism Ads
Come to Wakanda "Before"
Come to Wakanda "After"
Enjoy the Black Panther release with these fun Black Panther Bingo Cards and make a movie night party out of it!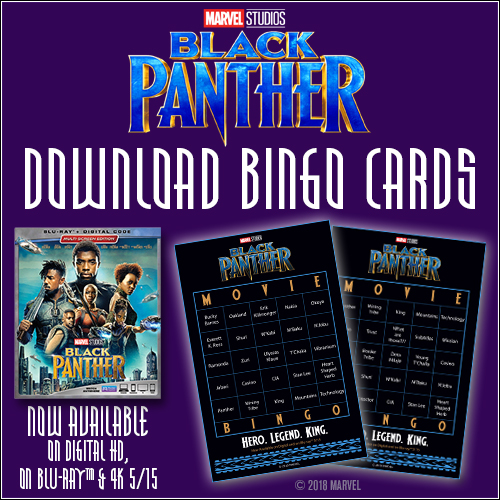 STAY SOCIAL WITH BLACK PANTHER
#BlackPanther