---
Create some DIY Bullseye Pencil Arrows while munching on a Target Practice Pizza Dip!
Click here to print them out!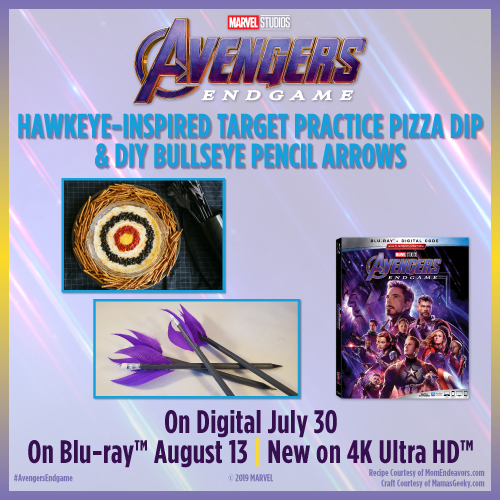 Avengers: Endgame launching on Blu-ray, DVD, and 4K on August 13!
Fans who bring home "Avengers: Endgame" will gain hours of additional screen time with their favorite cast members and filmmakers who have shaped the Marvel Cinematic Universe (MCU). Bonus features include a tribute to the great Stan Lee; the tale of Robert Downey Jr.'s casting as Iron Man; the evolution of Captain America; Black Widow's dramatic story arc; directors Anthony and Joe Russo's experience at the helm of both "Avengers: Infinity War" and "Avengers: Endgame"; the making of an epic battle scene with the women of the MCU; the creation of Bro Thor; deleted scenes; a gag reel and more.